Regular price
Sale price
$35.00
Unit price
per
Sale
Sold out
Indulge in your favorite fried foods, without the guilt. With 150+ brand new recipes, this is more than just a cookbook – it's your Air Frying Bible. It includes mouth-watering recipes for Breakfasts, Appetizers, Main Dishes, Sides, Snacks, and Desserts, plus pro tips on everything from how to choose an Air Fryer to the best ways to clean your appliance.
Recipes include:
Crispy Southern Fried Chicken

Bacon-Wrapped Stuffed Jalapeños

Fall off the bone BBQ Pork Ribs

Chocolatey Molten Lava Cake

And more!
With these no muss, no fuss Air Fryer recipes, healthy cooking has never been easier – or more scrumptious!
View full details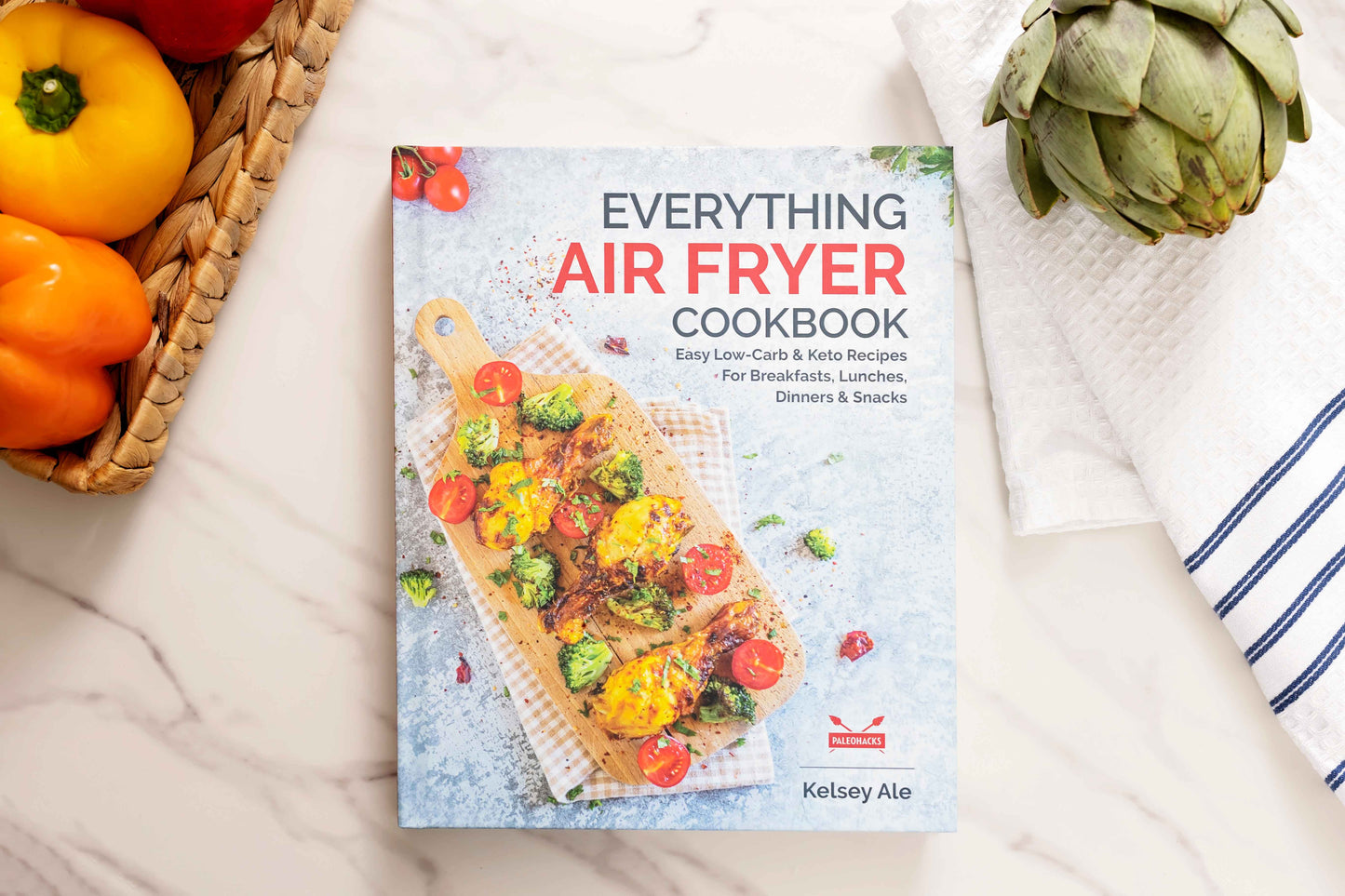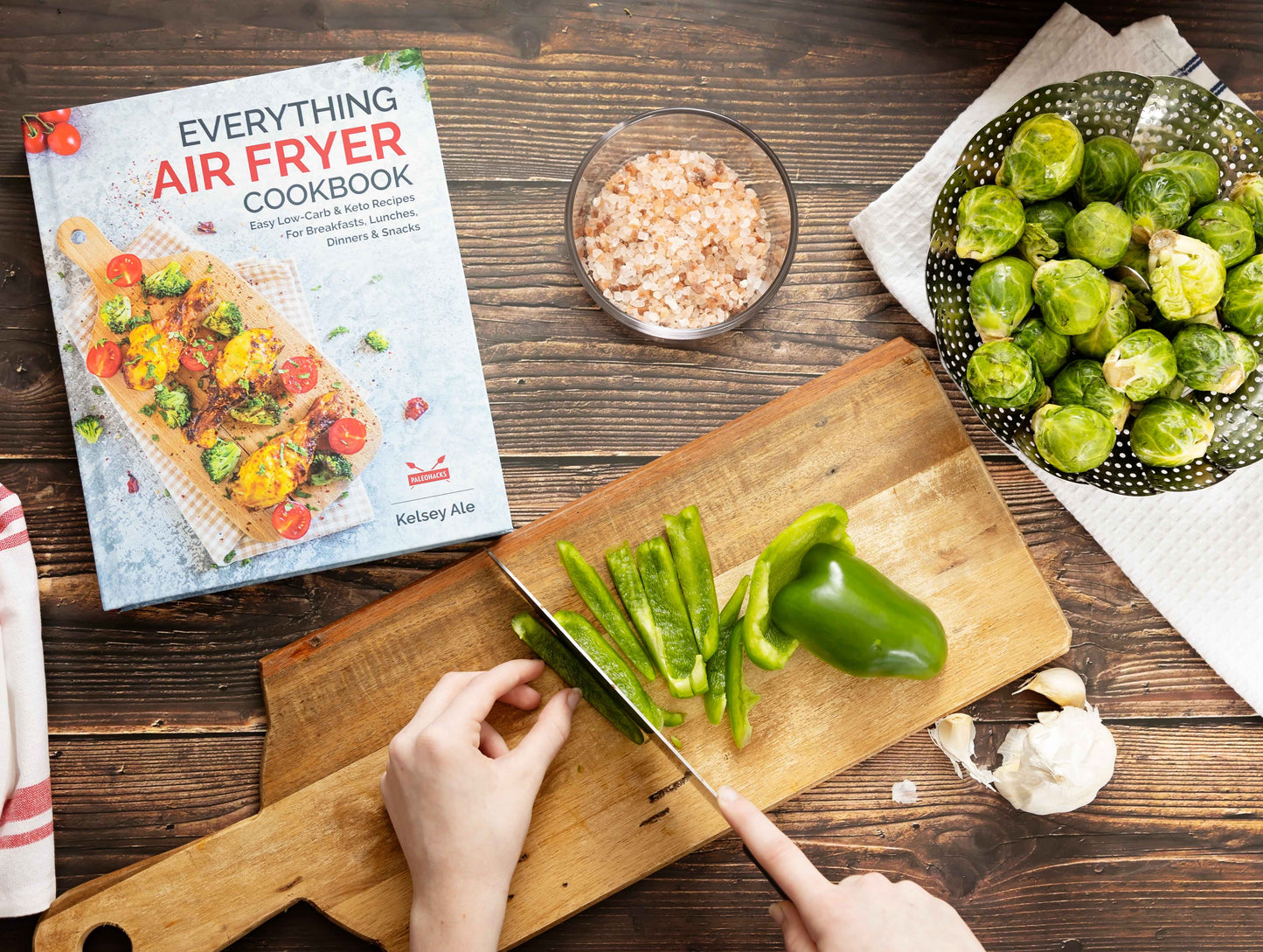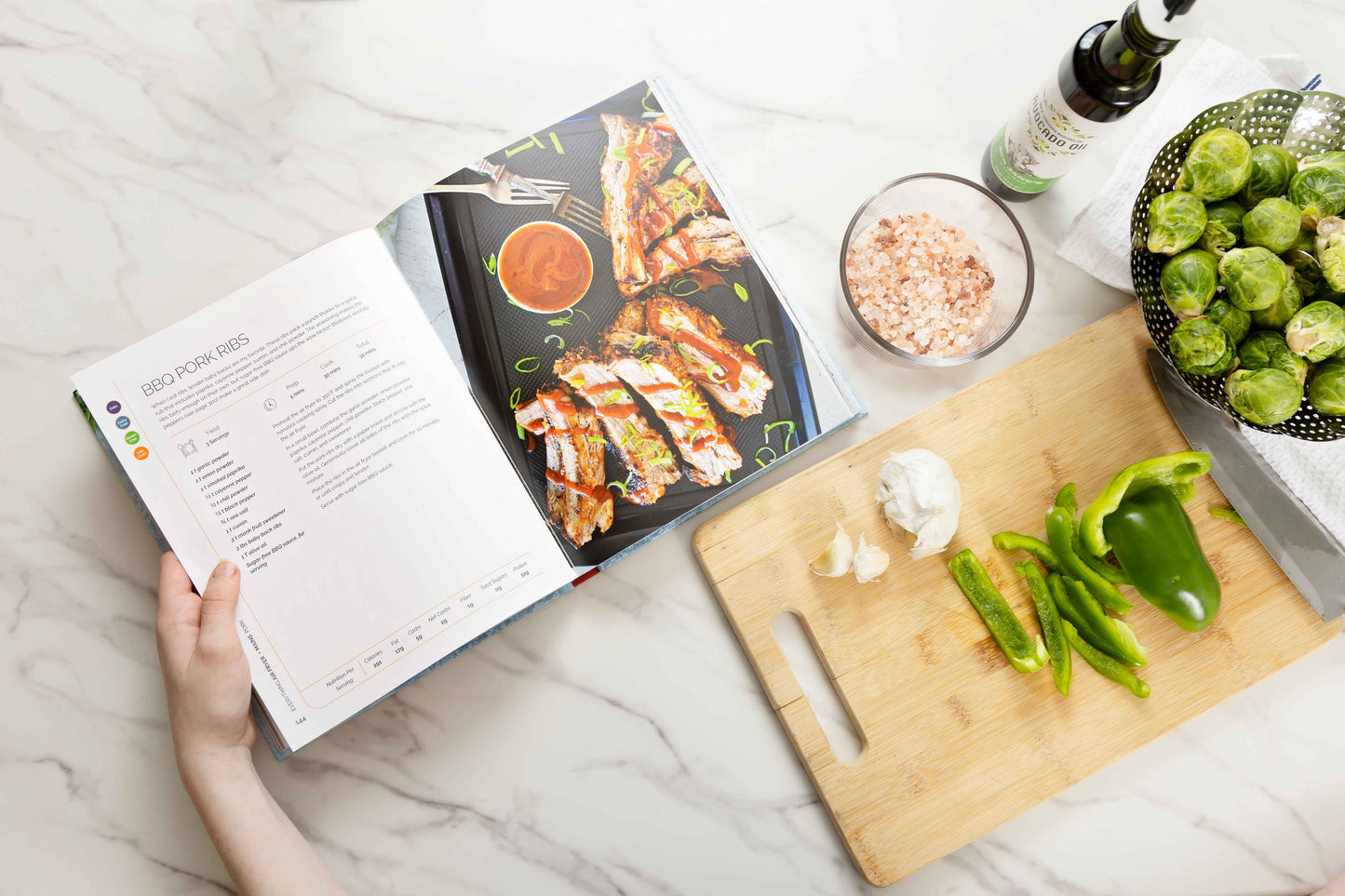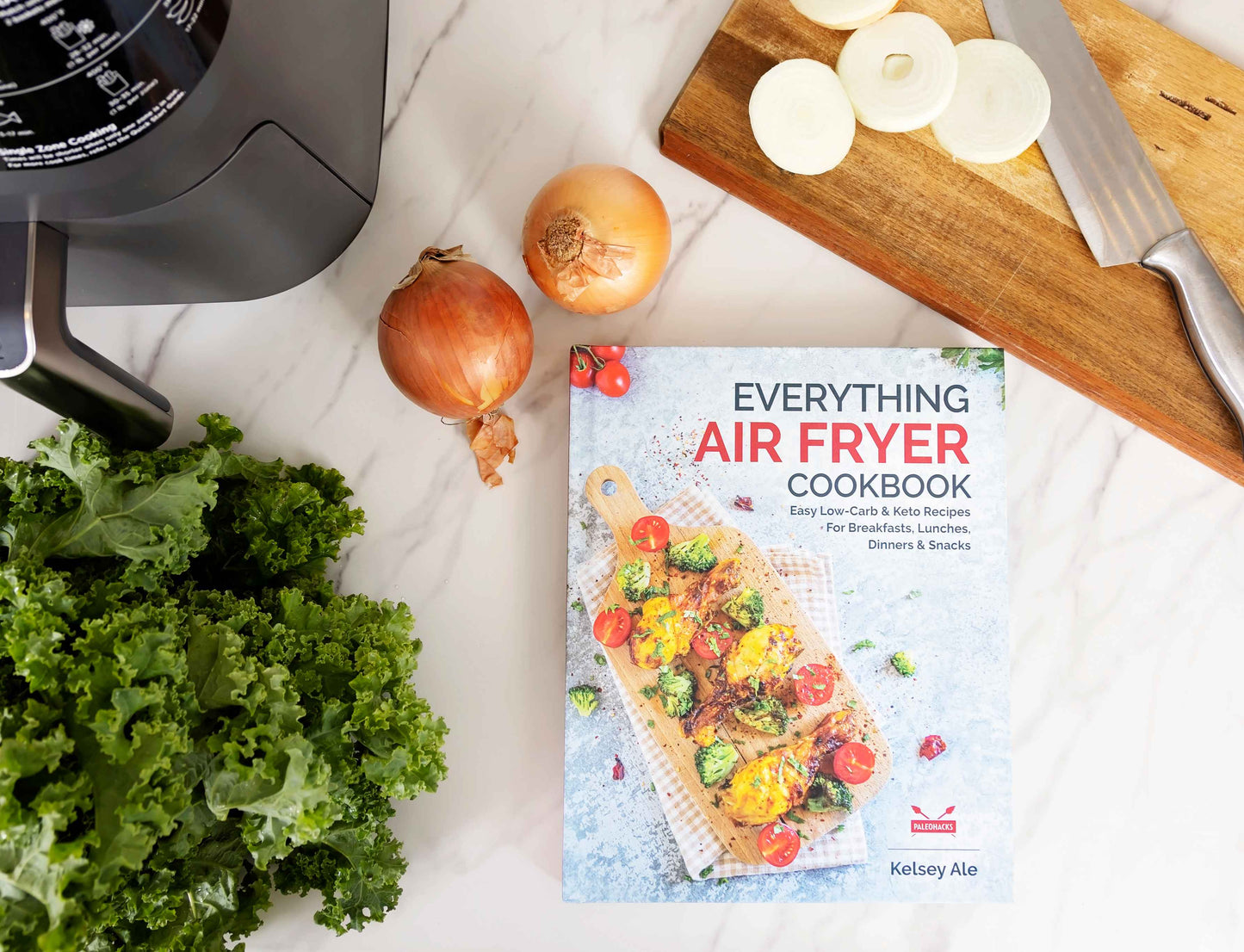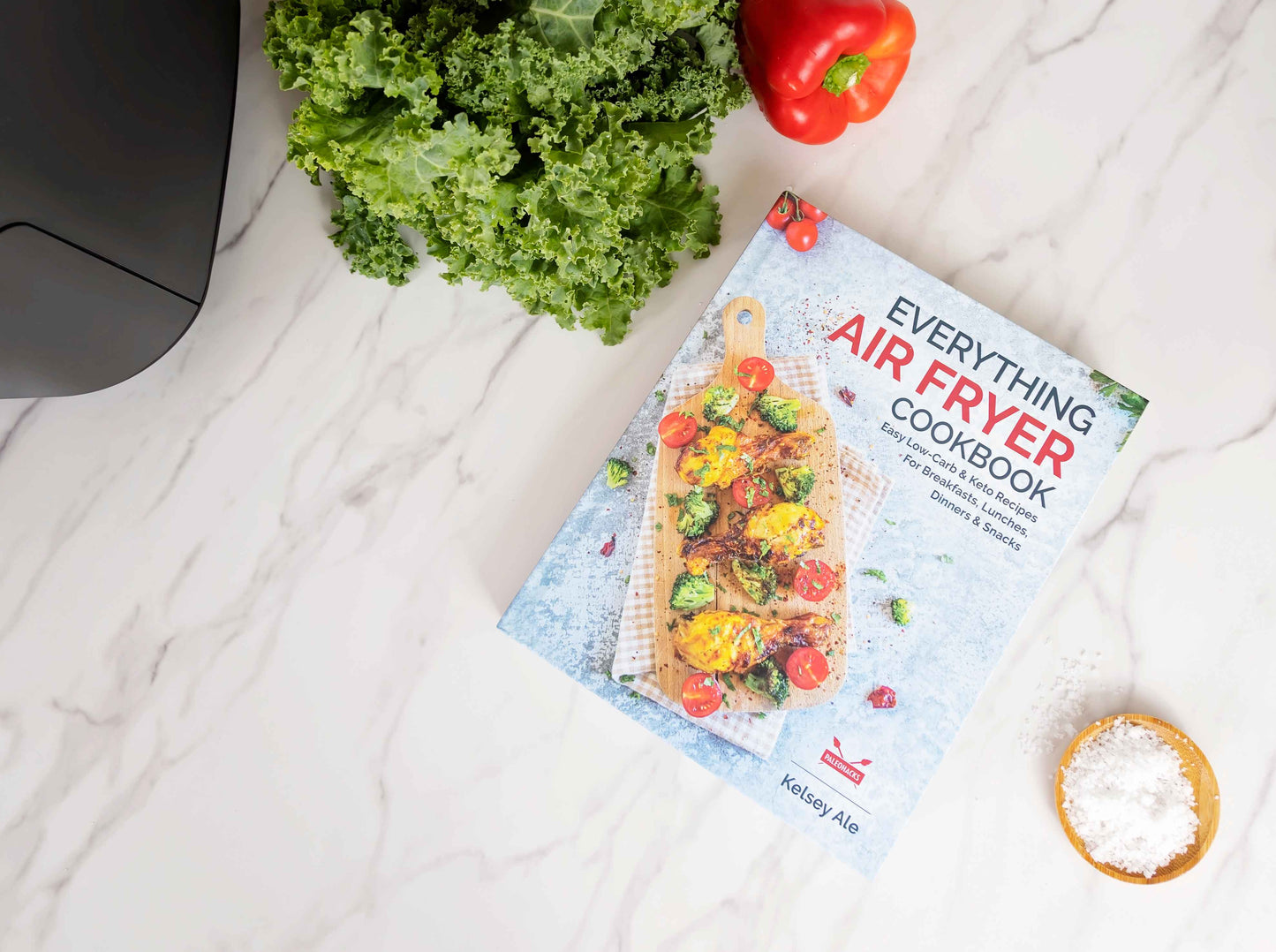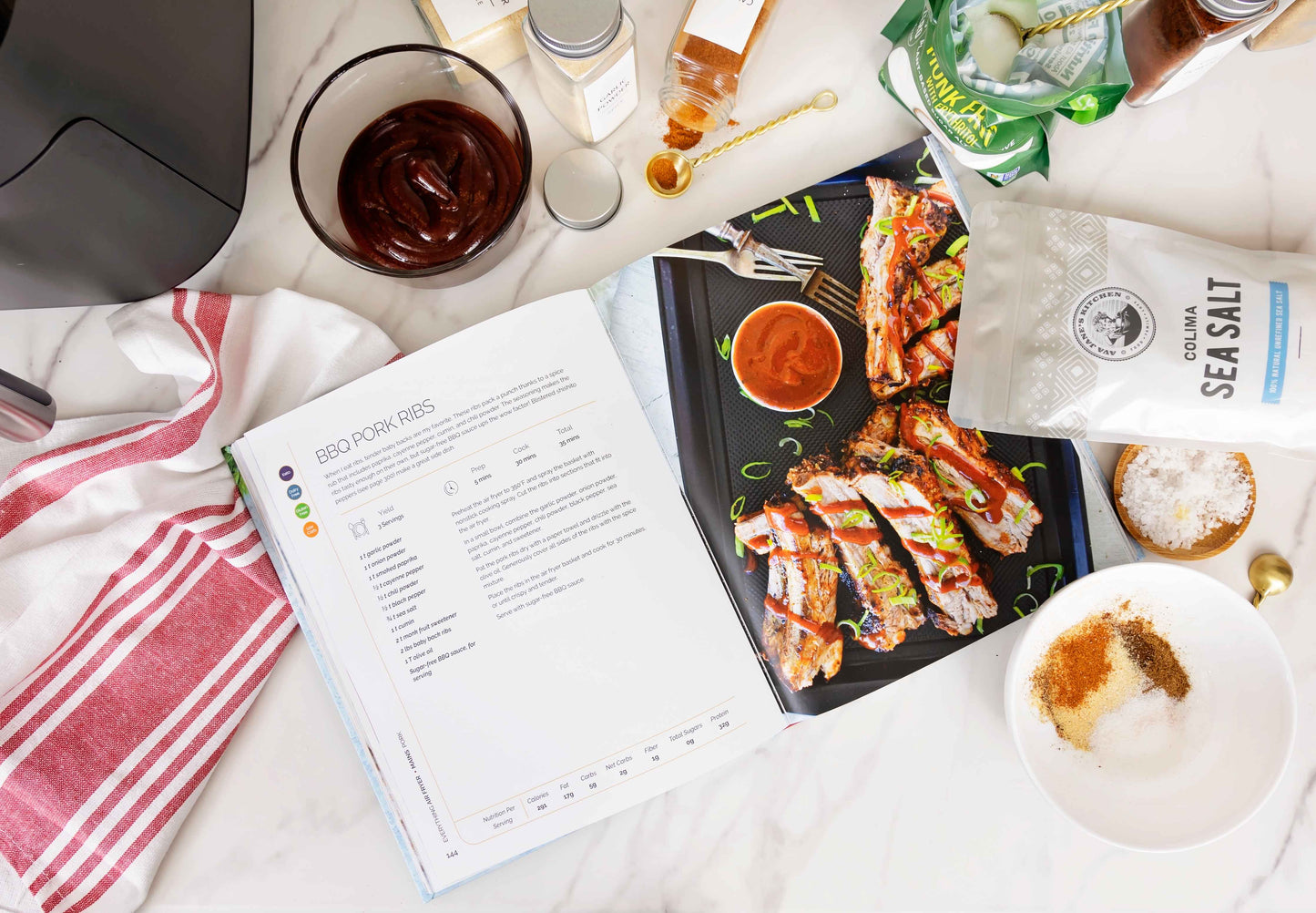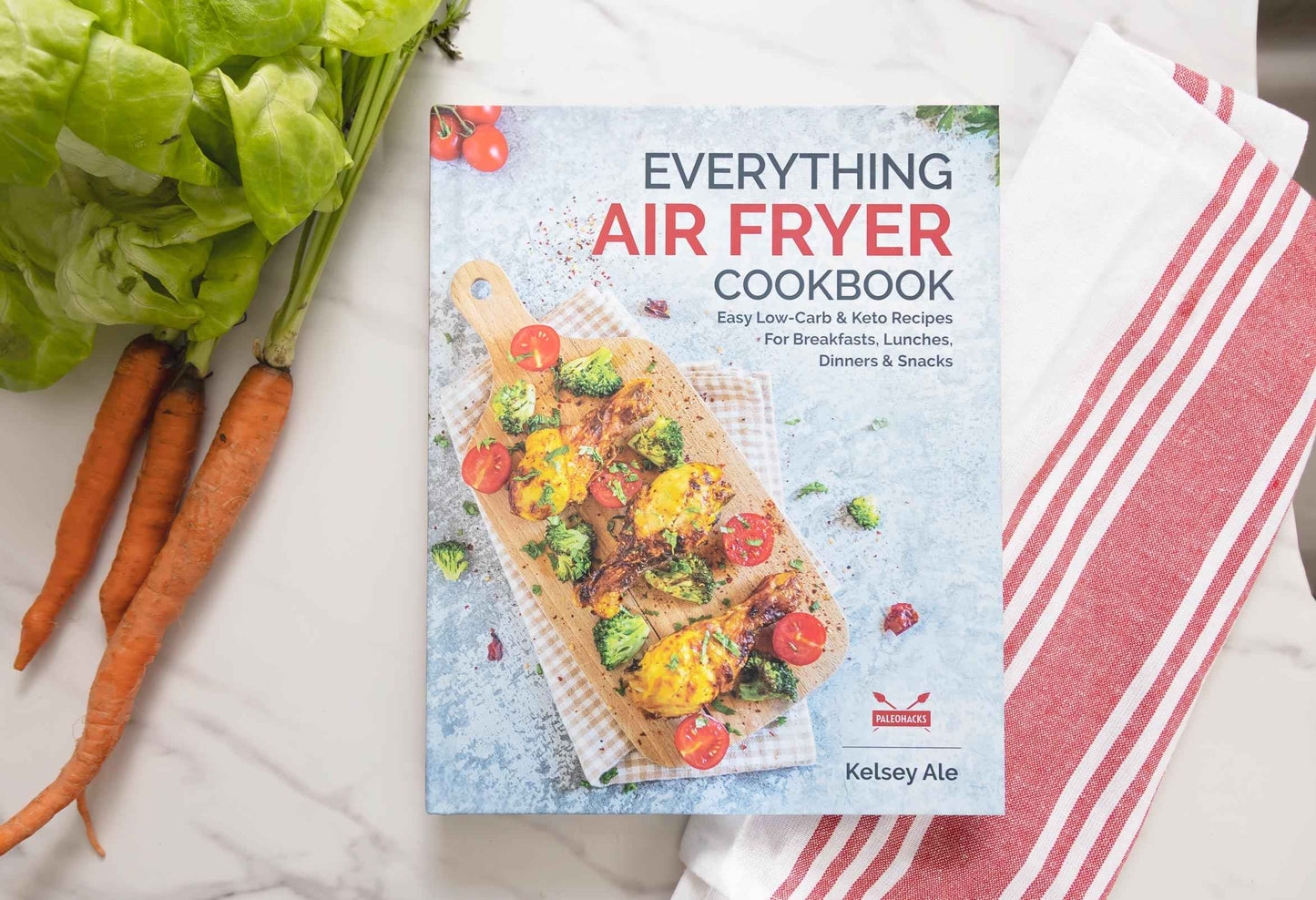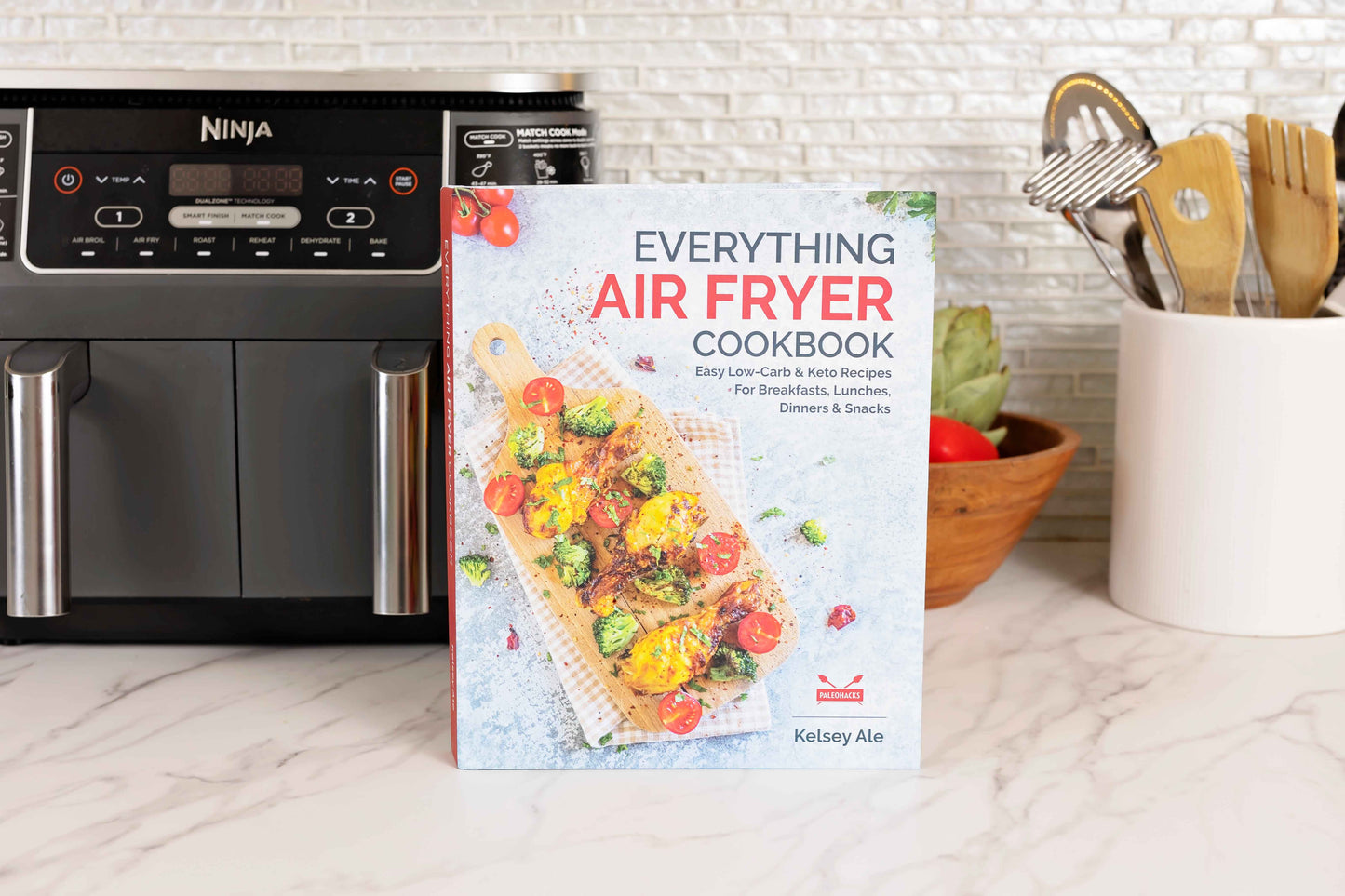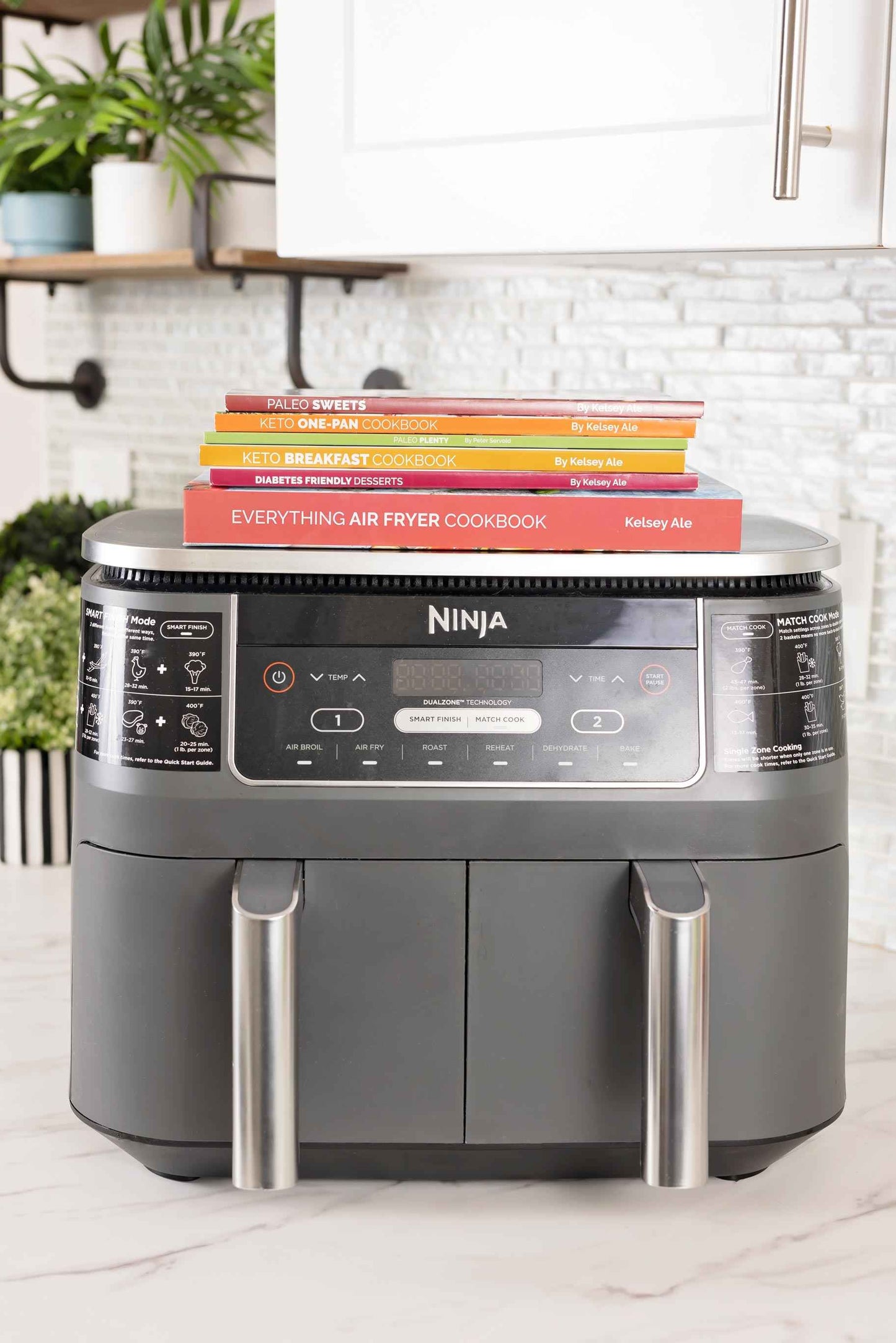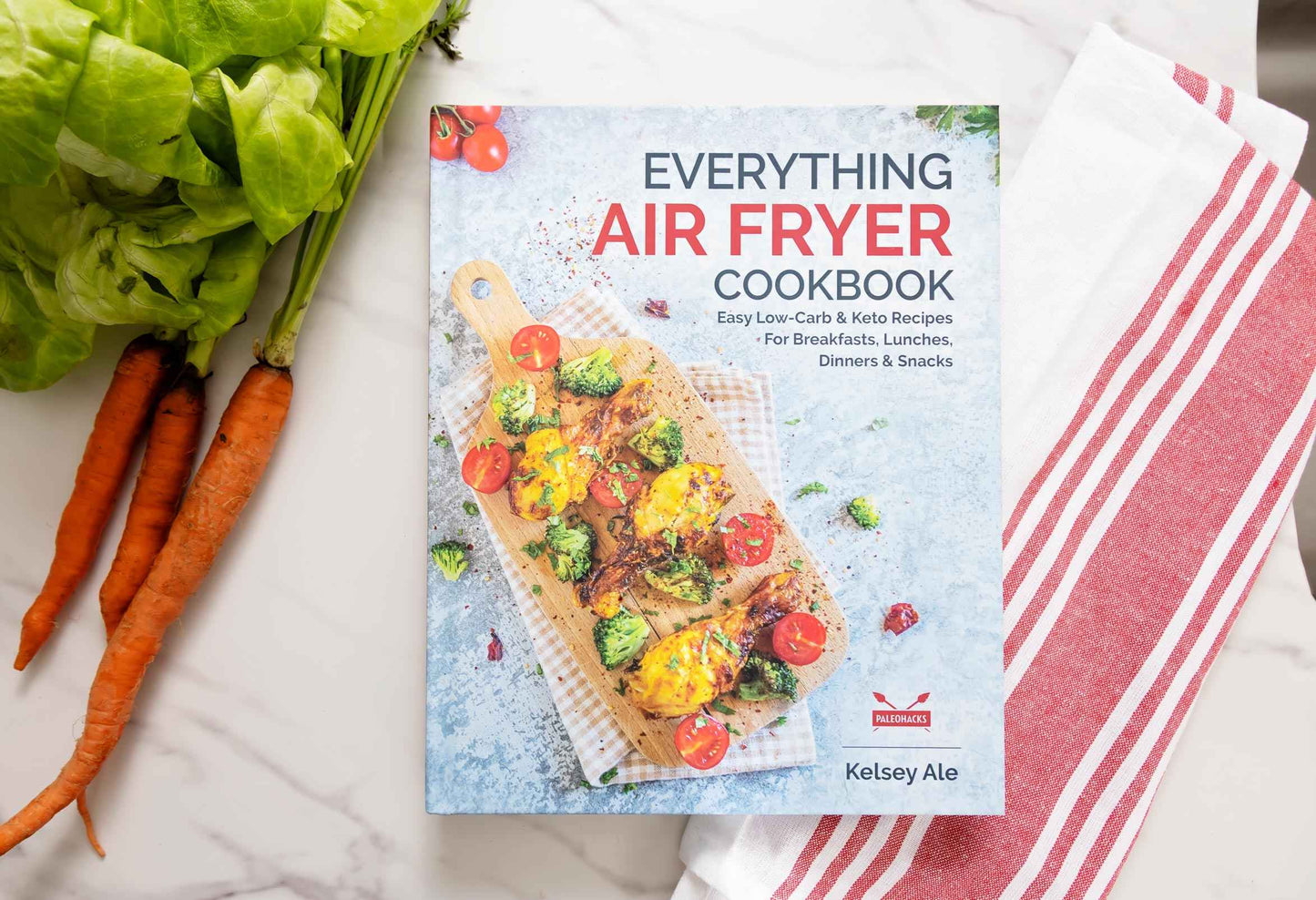 A Taste Of What's Inside
★ ★ ★ ★ ★

Lemon Coconut Cupcakes

★ ★ ★ ★ ★

Bacon Wrapped Stuffed Jalapenos

★ ★ ★ ★ ★

Beef Kebab and Veggies

★ ★ ★ ★ ★

Chicken Stuffed Bell Peppers

★ ★ ★ ★ ★

Creamy Cheddar Bacon Turkey Bites

★ ★ ★ ★ ★

Herbed Butter Steak

★ ★ ★ ★ ★

Sesame Garlic Beef Ribs

★ ★ ★ ★ ★

Spinach and Egg Breakfast Pizza

★ ★ ★ ★ ★

Tomato Galette

100% Iron-Clad Money Back Guarantee

We are so confident you'll love the recipes in the Everything Air Fryer Cookbook, we are putting an amazing guarantee on it.

That way, you'll have no risk whatsoever in giving it a try! If you're unsatisfied with it at all… for any reason…

Just shoot us an email within 60 days, and we'll give you a full, 100% refund on every penny you spent with us, no questions asked.

Meet The Author

Kelsey Ale

Kelsey Ale is a certified Nutritional Therapy Practitioner, Restorative Wellness Practitioner, and Paleo recipe developer and baker living in Los Angeles, California. She discovered her passion for healthy cooking and desserts almost two decades ago. After discovering how Paleo, Keto, and other natural lifestyle adjustments helped her heal her own body and recover from illness, Kelsey became fully committed to showing the world how to use delicious food to reduce inflammation, increase mental clarity and energy, and age more gracefully.

Need Help?

We've got you covered. Explore answers to our most frequently asked questions or get in touch with one of our helpful experts.

How Is Everything Air Fryer Different From Your Other Keto Air Fryer Cookbook?

Each one of the 153 recipes in Everything Air Fryer is brand new. So you'll get a ton of fresh inspiration for breakfast… dinner… snacks… dessert… and more. Plus, Everything Air Fryer has more than just recipes. Think of it like your ultimate Air Frying guide. It has everything you need to make the most out of this amazing modern appliance. The first release in our new Heritage Collection, Everything Air Fryer is not like our other books. This 8 X 10 hardcopy edition is a coffee-table stunner that you'll be proud to display. Everything Air Fryer is the new classic you'll reference for years to come, before you finally pass it down to the next generation.

How Hard Are These Recipes To Make?

Most of these recipes are dead-simple to make. I did throw in a few special recipes for that "WOW" factor… But the majority of these dishes are quick and easy to prepare. I specifically choose recipes with common, easy-to-find ingredients… So shopping is a breeze. And there are clear, easy-to-follow instructions. So even a total beginner can master these dishes!

Do I Have The Right Air Fryer For These Recipes?

These recipes were designed and tested to work in most air fryers, so you can whip up delicious dishes no matter which model you use.

What If I Don't Have An Air Fryer At All?

It's easy to find an affordable air fryer. You can easily order one online, or pick one up at most Big Box stores. Some are priced as low as around $25!There are also instructions in Everything Air Fryer for using a regular oven to make these recipes. So you're pretty much covered no matter what!

Why Is This Book More Expensive Than Your Other Books? Is This Book Worth The Money?

Everything Air Fryer is the first book in our new Heritage Collection. These gorgeous, full-sized hardcover books were simply made to be displayed. With mouth-watering photos on each page… Nutritional info and essential conversion charts… And pro tips that make any air fryer work even better… Everything Air Fryer is an addition to your recipe collection that you won't regret.

Isn't Fried Food Unhealthy?

Not in an air fryer! That's what's amazing about this magical little appliance. It doesn't actually need oil, so it drastically reduces the amount of fat and calories in your recipes. Best of all, air fryers still manage to get everything crispy on the outside, but juicy on the inside.

Do I Really Need An Air Fryer For These Recipes?

Nope! You can make all of these recipes in any regular old oven. Everything Air Fryer has a special section that shows you exactly how to easily convert ANY recipe so it can be cooked in an air fryer or a traditional oven. So really… you can enjoy all these brand-new dishes – with or without an air fryer!

Can These Recipes Really Help Me Lose Weight And Burn More Fat?

Keto is a great choice for anyone who wants to lose weight quickly. Plus, studies show Keto helps support healthy blood sugar and healthy cholesterol and triglycerides. But if Keto isn't for you, Everything Air Fryer also has plenty of Paleo and Low-Carb choices too. Whichever you choose, your heart, your gut, and your waistline will all thank you! Everything Air Fryer is a fun, modern addition to any recipe collection.

When will my cookbook arrive?

Once your order is confirmed, your copy will be shipped out in 48 hours. It normally takes about 7-10 business days to arrive.

Am I really covered by a 100% money-back guarantee?

Yes. If you're unsatisfied with anything, feel free to send us an email within 60 days and we'll refund you 100% of your money. That means there's ZERO risk for you to try Everything Air Fryer today. It's our way of saying thank you for giving us a try.

Choosing a selection results in a full page refresh.
Opens in a new window.